Welcome to The Llewellyn Choir
Welcome to the website of The Llewellyn Choir, one of Canberra's leading and longest-running choral groups. Our repertoire is based on the classical choral repertoire with orchestral accompaniment; it also includes lightly accompanied smaller pieces drawn from a wide range of sources.
We have ties with the ANU School of Music and Canberra Youth Music, and provide performance opportunities for their graduates and other young professional musicians. We also have links with Les Alizés Chorale in New Caledonia and exchange visits every two years.
We perform 3-4 times a year, and rehearse on Tuesday nights at the ANU School of Music, from 7.30-9.30pm.
---
We are always looking for new members. Find out how to join
.
---
Praise for St Matthew Passion
Some of the glowing audience feedback from our performance of St Matthew Passion on Saturday 5 April:
"Saturday night's concert was magnificent!! Please pass on to the choir, as a whole, my congratulations and thanks for their fantastic performance. Under Rowan's creative direction you all surpassed yourselves, and I felt very proud of what you all achieved. The subtle added dramatic touches brought another dimension to the music, and the bowed heads, during the last sublime chorus, were my undoing!"
And:
"Well done TLC for carrying off a lovely performance of St M's P last night. Great sweeping warm tone, nicely timed beginnings and endings. The theatrical touches were effective, contrasting the slow sincerity of the choruses with the rushed nastiness of the crucifixion crowd scenes. How satisfying it was for the audience to have that dual wall of sound, like two top-class speakers, from the two choirs. The orchestra, average age early twenties?, were really impressive. The soloists were great."
From Those Who Served
Our next major concert, on 31 August, will commemorate composers who served at the front in The Great War.
Read more about From Those Who Served
---
New members
We are always looking for new members. Find out how to join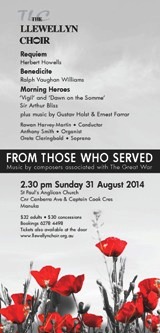 [ click to enlarge ]


  Copyright © 2013 The Llewellyn Choir Inc.
 
Design and hosting by Whim IT