Praise for Celebrate Christmas concert
"Starting with the traditional 'Deo Gracias', arranged by Benjamin Britten, followed by the beautifully melodic 'Angel's Carol' by John Rutter, the choir sang with precision and great feeling..."

"Soloists Greta Claringbould, Christina Wilson and Michael Martin were in fine voice soaring above the choir in this haunting work. The choir sang the harmonies with great accuracy and a pleasing depth, making it sound at times like it was a larger choir than it was..."

"This was a perfect concert to finish the year!"

- Len Power, Canberra Critics Circle, 20 December 2015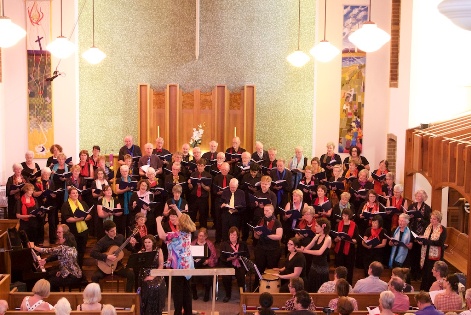 The Llewellyn Choir performing Navidad Nuestra at Wesley Uniting Church, 19 December 2015
(Click to enlarge)
---
Welcome to The Llewellyn Choir
Welcome to the website of The Llewellyn Choir, one of Canberra's leading and longest-running choral groups. Our repertoire is based on the classical choral repertoire with orchestral accompaniment; it also includes lightly accompanied smaller pieces drawn from a wide range of sources.
We have ties with the ANU School of Music and Canberra Youth Music, and provide performance opportunities for their graduates and other young professional musicians. We also have links with Les Alizés Chorale in New Caledonia and exchange visits every two years.
We perform 3-4 times a year, and rehearse on Tuesday nights at the ANU School of Music, from 7.30-9.30pm.
---
We are always looking for new members. Find out how to join
.
---
Celebrate Christmas a big success!
Despite the sweltering heat, a capacity crowd at Wesley Uniting Church gave a wonderful reception to our Celebrate Christmas concert on 19 December. Thanks to our wonderful soloists - Greta Claringbould, Christina Wilson and Michael Martin whose beautiful voices soared above the choir in Respigi's Laud to the Nativity and to Dominic Harvey who brought a sense of fun to Navidad Nuestra. And to the small band of musicians who brought a Latin American feel to the Navidad. A great way to end the year, and more than one audience member was heard to say "I started off feeling down because of the heat, but the music soon made me forget about it."
Elijah
Now on to our first concert for 2016: Mendelssohn's Elijah on 16 April. More details are available on the Next Concerts page.
---
New members
We are always looking for new members. Find out how to join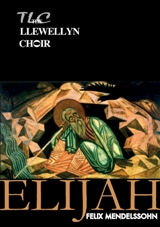 [ click to enlarge ]

  Copyright © 2013 The Llewellyn Choir Inc.
 
Design and hosting by Whim IT