Welcome to The Llewellyn Choir
Welcome to the website of The Llewellyn Choir, one of Canberra's leading and longest-running choral groups. Our repertoire is based on the classical choral repertoire with orchestral accompaniment; it also includes lightly accompanied smaller pieces drawn from a wide range of sources.
We have ties with the ANU School of Music and Canberra Youth Music, and provide performance opportunities for their graduates and other young professional musicians. We also have links with Les Alizés Chorale in New Caledonia and exchange visits every two years.
We perform 3-4 times a year, and rehearse on Tuesday nights at the ANU School of Music, from 7.30-9.30pm.
---
We are always looking for new members. Find out how to join
.
---
Our next concert - St Matthew Passion
2013 finished on a high note for The Llewellyn Choir, with a fine performance of Benjamn Britten's The Company of Heaven at the Australian Centre for Christianity and Culture on 22 December. The choir also performed Gerald Finzi's Magnificat and Prologue to the Coventry Nativity Play, a new work written for the choir by Canberra musician and repetiteur Anthony Smith. A highlight of the concert was Finzi's Eclogue for piano and strings, performed by Anthony Smith with The Llewellyn Sinfonia.
The choir, augmented with over 60 guest singers, is now enjoying rehearsals for Bach's St Matthew Passion for a performance at Llewellyn Hall on 5 April 2014.
Click here for more details
---
New members
We are always looking for new members. Find out how to join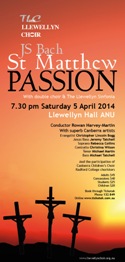 [ click to enlarge ]



Soloists
Christopher Lincoln Bogg
Rebecca Collins
Christina Wilson
Michael Martin
Jeremy Tatchell
Michael Tatchell

Bookings
Ticketek online
Phone 132 849


  Copyright © 2013 The Llewellyn Choir Inc.
 
Design and hosting by Whim IT