Next Concert



BERNSTEIN

7 pm Saturday 11 December 2021
St Andrew's Presbyterian Church, Cnr State Circle and Canberra Avenue Forrest

Soloists
Sonia Anfiloff, Emma McMaster, Tom Azoury and Toby Silcock
With the special participation of The Gabriel Singers, Canberra Girls Grammar School

Tickets: $45 (adults) $40 (concession)
Bookings essential



About the concert
Chichester Psalms
In this contemporary but accessible piece, Bernstein combined Biblical Hebrew verse with Christian choral tradition.

Chichester Psalms was commissioned in 1963 for the 1965 Chichester Festival, althought the premiere actually took place in New York, two weeks before its performance in Chichester by the combined choirs of Chichester, Winchester and Salisbury Cathedrals.

In commissioning the work, Dean Rev. Walter Hussey mentioned that he would be delighted if "there was a hint of West Side Story about the music." He got his wish: Bernstein re-used large parts of the music that he had written for an aborted musical based on Thornton Wilder's The Skin of our Teeth and also a chorus which had originally been written for, but dropped from, West Side Story.

The piece is in three movements, set in Hebrew and derived from Psalms 23, 100, 108, 113 and 131.


MASS
This year marks the 50th anniversary of the first performance of Bernstein's MASS.

The Vietnam War, the shadow of the Holocaust, the Cold War era's threat of nuclear annihilation, and the ongoing struggle for civil rights were all very much on Bernstein's mind as he composed MASS

Formally titled: MASS: A Theatre Piece for Singers, Players, and Dancers, it is a musical theatre work, based on the Catholic ritual but with additional texts and lyrics in English and Hebrew by Bernstein, Stephen Schwartz and Paul Simon.

Commissioned by Jacqueline Kennedy, it premiered on 8 September 1971, conducted by Maurice Peress and choreographed by Alvin Ailey. The performance was part of the opening of the John F Kennedy Center for the Performing Arts in Washington, D.C.

MASS is an eclectic mixture of opera, jazz, blues, pop, folk, Middle Eastern, rock, marching band, sacred and Broadway styles. At Its premiere, some 200 singers, dancers and instrumentalists took part – including two choruses, a boys' choir, a Broadway-flavored "Street Chorus," Ailey's dance company, a marching band, a rock band, and the work's protagonist, the Celebrant.

It was viewed as controversial at the time, but is now embraced by audiences worldwide.

The Llewellyn Choir will be performing concert selections from this work.

---
Upcoming concerts
For information about later concerts see our Upcoming Concerts page.
Enquiries
Want to know more?
Email enquiries@llewellynchoir.org.au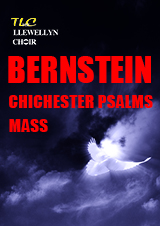 [ click to enlarge ]
  Copyright © 2013 The Llewellyn Choir Inc.
 
Design and hosting by Whim IT